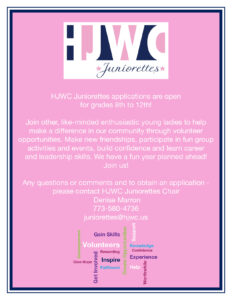 Calling all 9th to 12th grade girls! Here's a fun rewarding opportunity for you! This is a great opportunity to give back to the community. Juniorettes is now accepting applications! Applicants will have the opportunity to join like-minded enthusiastic young ladies that will make a difference in our community and beyond through volunteer opportunities! Our Juniorettes will also participate in fun group activities and events, earn service hours, build confidence, learn career and leadership skills too! We have a fun year planned for you!
Applications will close October 5th!
If you have questions, don't hesitate and reach out!
More information at https://www.hjwc.us/juniorettes
Thanks,
~Denise Marron
HJWC Juniorettes Chair
773-580-4736
Denisemarron@rocketmail.com
Hinsdale Junior Women's Club