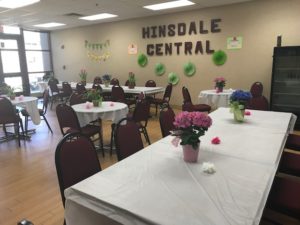 Dear Parents,
We wanted to send out a HUGE thank you to all of the parents who donated treats, fruit, flowers, and art work, or who volunteered to help with the 2018 Teacher and Staff Spring Appreciation Dessert Buffet. The Staff Café was transformed! It was so lovely and every person who walked in had a smile on their face. The staff was so grateful!
Thank you all so much!! We would never be able to do any of these activities for 375 staff members without your help. The Hinsdale Central parents have always been so generous and helpful…we truly appreciate you all!
Have a wonderful summer!!
Kathy Schilder and Nancy Mortensen
HCHS PTO Teacher and Staff Appreciation Committee Co-Chairs