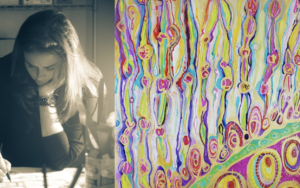 Local Artist Maureen Claffy will be showcasing her work at an event this Thursday, May 10th from 5pm-9pm at Acquisitions of Fine Art, 10 Hinsdale Avenue #3.  
The Love Series, A Celebration of Divine Love features Maureen's newest work.
A portion of the proceeds from sales during this event will support the HC PTO Insight Collaboration committee during our May Mental Health Awareness fundraising event.
Please stop by Acquisitions of Fine Art on Thursday evening or anytime after. The event will run until Saturday, May 19th.
To view more information about this wonderful event an invitation is attached.